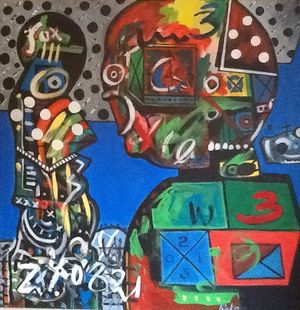 PI
Busy making other plans...
Longsongs Music was originally set up in 1981 to publish songs written by Roger John D'Arcy. "Longsong" was the title of one of sixteen tracks recorded by the (very) short lived duo, The DT Band, and featured on their first album, "Just a Dream", which was recorded over the summer of that year in Sheffield in the north of England. A second album of songs, "To the Sky", was written and recorded just a few weeks later.
Roger and guitarist Kevin Sims Thompson had successfully completed six years studying architecture at Sheffield University and were ready to try something else. Initially calling themselves The dt's, the name was quickly changed to The DT Band (D'Arcy -Thompson) after discovering that there was already a fairly successful group of the sam'e name (before the internet, such things were harder to establish).
The two albums enjoyed modest sales but with little serious interest from record labels, Kevin returned to his career in architecture and Roger moved to Exeter in the south-west of England and incorporated Longsongs Music Limited as part of a group of arts-based companies (The Iron Bridge Group Limited) with friends met at university.
With Roger continuing to write, over the next couple of years Longsongs sought out, signed and attempted to develop a handful of local artists, achieving some critical acclaim but again, little commercial success with bands, The 6ix (BBC Radio 1 Best New Band of the Year), The Gift (John Peel Radio 1 airplay with "It'll End in Tears") and, Go! (Radio 1 airplay and local TV news theme). For the moment, that seemed to be that....
Sidetracked...
In 1984, Roger moved to London to join recording studio design company, Turnkey Two, as company architect. Leaving in 1987 to form Recording Architecture Limited (RA), the company went on to become one of the most respected and prolific studio design companies in the world and with a client list including The Kinks, Ronnie Wood, Sade, Annie Lennox, The Waterboys, The Cure, The BBC and literally hundreds of the world's finest studios.
Taking the decision to stop whilst at the top of their game, Roger and co-founding director, Hugh Flynn, along with architectural photographer, Neil Waiving, produced and in 2011 published "RA:The Book - The Recording Architecture Book of Studio Design" which documented their achievements. Thousands of copies of the book have been sold in over fifty countries around the world and it has become something of a recording industry "standard". Still in print and selling steadily, RA:The Book is now also available as an eBook.

Following publication, Recording Architecture Limited and its sister company, Black Box Limited, closed their doors to new work in 2012 and finally ceased trading in 2014.
Full circle...
After 30 years designing studios, Roger was finally able to get in to use one of them for himself. Between 2013 and 2015, an album's worth of his more recent songs was recorded at Babajim Studios and Mastering in Istanbul, Turkey, one of RA's flagship projects and a personal favourite of Roger's. The album is called "Crooked Tales" and was produced, mixed and mastered by Pieter Snapper, co-founder of Babajim. The songs are published by Longsongs Music Limited, established 1981.

And the wheel still turns....
Through 2016, the follow up album to 'Crooked Tales' was recorded at Babajim with the same production team and many of the original musicians - the album, was release in August 2017 and called 'House Of Heads' (The 'Maison des Têtes' is an ornate c15th building in the centre of old Valence, France and literally overlooks the balcony featured on the 'Crooked Tales' cover. It continues the Bonaparte connection - the young Napoleon frequently used the owner's library when he lived opposite.) The album features 10 new songs by Roger D'Arcy and closes with a cover of Gordon Lightfoot's 'Ordinary Man'.
2017 and onwards - The World Recording Tour and the release of the third solo album, 'The Road To Stameen' 
Released in August 2019, 'The Road To Stameen' features 8 new songs written by Roger D'Arcy and a cover of 'The Same Old Road' by legendary Derbyshire folk singer, Jack Hudson (Roger's first ever public performance as part of the folk trio, In Accord, was supporting Jack in 1973).
The World Recording Tour.....
A series of singles has also been released through 2019 and now on in go 2020 - all original new songs recorded in studios around the world designed by Roger and collectively known as The World Recording Tour:
'Velvet Ghosts' - recorded at Jaffa Sound in Israel
'Fool Me Once' - recorded at Le Doyen in Ukraine 
'The King's Shilling' - recorded at 9X TV in India
'Island Of Tears' - recorded at Beechpark Studio in Ireland 
Which Way Will The Wind Blow?' - recorded at OC2 in the USA
Scheduled for release over coming months: 
'The Shirt Upon My Back - recorded at Twenty8 in Greece
'Derbyshire' - recorded at Pluto Music (Hulgrave Hall) in England 
Live From The Barn at Beechpark....
in October 2019, Roger showcased 4 songs from The Road To Stameen album in a live broadcast to FaceBook and Irish digital TV channel CWLTV from The Barn at Beechpark Studios outside Dublin in Ireland. Joining Roger on stage in front of an invited audience were local legends from the Fleadh Cowboys, Frankie Lane (banjo and dobro) and Paul,Kelly (mandolin and fiddle) and on backing vocals, Irish chanteuse Anne Randolph and the great Mick Hanly.
An EP entitled 'Live From The Barn at Beechpark' featuring three of the songs from the show will be released in March 2020 and includes the rousing finale, 'Island of Tears'.

The DT Band 2016......

With 'House of Heads' still underway at Babajim, Roger reunited with Kevin Thompson for an impromptu recording session at the studio run by Kevin's son, Joe, in Cardiff, Wales. With the DT Band feel, they recorded Kevin's arrangement of 'Lines in the sand' (aka Topol's Pencil) from Crooked Tales - the first time the two friends had played together in 35 years. Engineered, edited and mixed by Joe Thompson and mastered by Pieter Snapper at Babajim, the results will be released as a single for download and streaming at the end of January 2017. Plans for more are in hand.....

The DT Band 2017.....

The release of '1981 - The Best Of The DT Band', a ten track compilation featuring songs from the DT Band's original two albums, 'Just a Dream'* and 'To The Sky' recorded in 1981.

Remastered by Pieter Snapper at Babajim Studios & Mastering, Istanbul, Turkey in January 2017 - analogue to digital transfer from the original stereo master tapes by Bill Gautier at Martha's Studio, London, England in 2005.

Recorded through June, July, August 1981 at Netherfield Road and mixed at Clive England's, Cobden View Road, Crookes, Sheffield.

Vocals and acoustic 12 string guitar:  Roger D'Arcy
Lead and electric guitars:  Kevin Thompson
Electric bass guitar:  Jerry Goodranch
Drums and percussion:  Nike Grover
Guest vocal on track 9:  Suzanne Forrest

 1. Longsong*.  
 2. To the sky.  
 3.  Only a dream*  
 4.  Turn away.  
 5.  Sleepless nights*
6. Over and over.   
7. Still burning*.    
8. Aiming High.   
9. Going down dirty* (featuring Suzanne)
10. (a) Won't you stay (b) Nez Perce

All songs written by Roger John D'Arcy except 'Nez Perce' written  by Kevin Sims Thompson. Published by Longsongs Music Limited.